A film by David Baute
Synopsis
After having lost all because of climate change, three women from different countries and continents- Kenia (Africa), India (Asia) and the Caribbean (America)- have to migrate to start a new life.
Director's Bio
David Baute (Tenerife, 1974) has trained in several film schools such as the Official Institute and Spanish Radio Television (Madrid), the Higher School of Arts and Entertainment in Madrid or the International Film School of Havana (Cuba). 
He complements his activity as a film director, with his role as artistic director of the MIRADASDOC International Documentary Film Festival (Tenerife). 
Other films in his filmography are Milagros (2017), La Murga Ópera Popular (2015) and Ella(s) (2010).
Festivals and Awards
DocsMX 2020- Official Competition – World Premiere
SEMINCI, Valladolid International Film Week 2020 – Green Spike Award for environmental values
ATLANTIDOC, Uruguay International Documentary Film Festival 2020
EFFA Environmental Film Festival Australia 2021
LOTURAK Film Festival 2021
Las Palmas de Gran Canaria International Film Festival 2021
Thessaloniki Documentary Film Festival 2021
Seoul Eco Film Festival 2021
Menorca International Film Festival 2021
Durban International Film Festival 2021
Puerto Madryn International Film Festival 2021 – Special Jury Mention
Trinidad+Tobago Film Festival 2021
Terre Des Hommes(?) – Urania National Film Theatre 2021
Suncine – Festival Internacional de Cine del Medio Ambiente 2021
Festival de Cine Etnográfico de Ecuador 2021
FIDBA – Festival Internacional de Cine Documental de Buenos Aires 2021
Jaipur International Film Festival 2022
Green Image Film Festival 2022
IbizaCineFest 2022
Ecozine Film Festival 2022
Humans Fest 2022
Bergen International Film Festival 2022
Tenemos Que Ver – Festival Internacional de Cine de Derechos Humanos de Uruguay 2022
All Living Things Environmental Film Festival 2022
Muestra de Cine y Derechos Humanos de Zaragoza 2023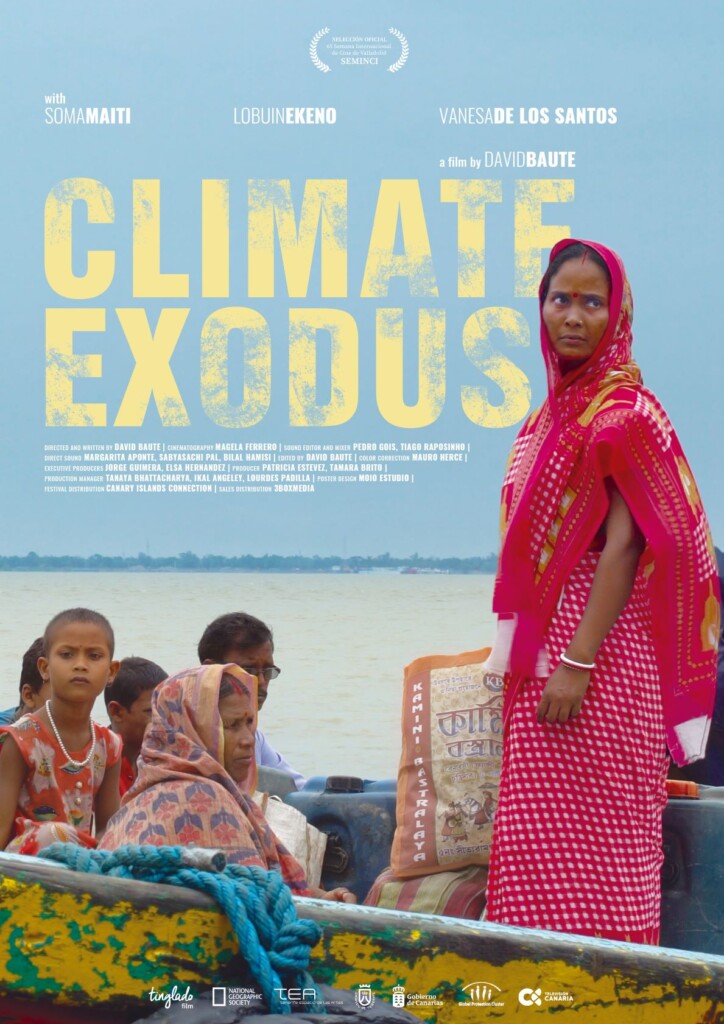 Original title
Climate Exodus
Genre
Documentary
Director
David Baute
Specifications
Spain / Spanish, Bengali, Turkana / 2020 / 63 min
Subtitles
Spanish, English
Production companies
Tinglado Film
Executive producers
Jorge Guimerá, Elsa Hernández
Screenwriter
David Baute
Cinematographer
Magela Ferrero
Sound
Pedro Gois, Tiago Raposinho
Editor
David Baute