Hotel Nueva Isla
A film by Irene Gutiérrez and Javier Labrador
Synopsis
Don Quixote in Havana. The formerly luxurious Hotel Nueva Isla, Cuba, now in ruins, is a shelter for people living on the fringes of society. Jorge, a solitary government official who is losing his memory, refuses to leave: he remains convinced that treasures, hidden by the hotel's original owners, lie waiting within its walls.
Press reviews
"A delicate and confident evocation of decay and near-squalor in the vein of Portugal's maestro of minimalism, Pedro Costa" Neil Young, The Hollywood Reporter.
Director's Bio
Irene Gutiérrez graduated in Documentary Filmmaking at the International Film School of San Antonio de los Baños (EICTV, Havana, Cuba). Her works as director and cinematographer have been exhibited in different international film festivals. She's currently working as a freelance filmmaker between Spain and Cuba and is also head of the Documentary Department in the EICTV.
Festivals and awards

Rotterdam International Film Festival 2014- Official Selection
MoMA Fortnight Documentary 2014
Chicago International Film Festival 2014- Official Selection
Moscow International Film Festival 2014- Official Selection
Cali International Film Festival – Best Film
DOCSDF Documentary Film Festival 2014- Best Latin American Film
MiradasDoc International Film Festival – Best Film
Jeonju International Film Festival 2014 – Special Jury Award
DocumentaMadrid 2014
IBAFF 2014- Official Selection
New Orleans Film Festival 2016- Best Documentary
Vancouver Latin American Film Festival 2015
Festival Internacional Cinemateca Uruguaya 2014
Trinidad y Tobago International Film Festival 2014
RDOC 2015- Best Caribbean Film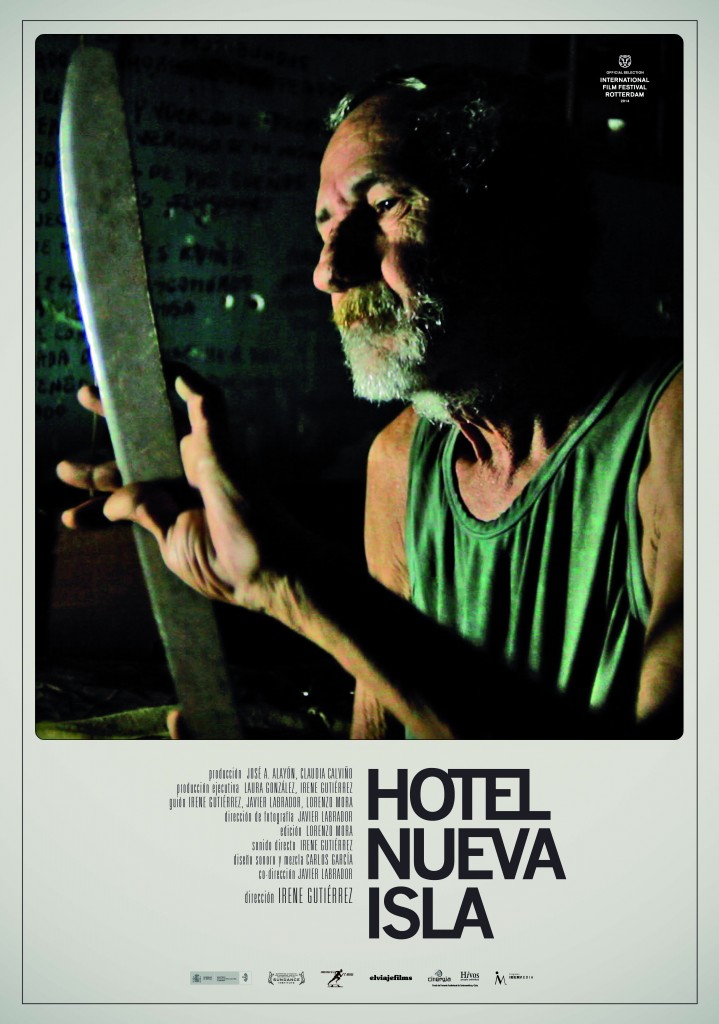 Original Title
Hotel Nueva Isla
Genre
Documentary
Director
Irene Gutiérrez and Javier Labrador
Specifications
Spain, Cuba / 2014 / 75 min / Spanish
Technical data
HD / Dolby SR  / 1:1.85 / Color
Available subtitles
English, French
Production company
El Viaje Films, Producciones de la 5ta Avenida
Executive producer
José A. Alayón, Claudia Calviño
Sccreenwriters
Irene Gutiérrez, Javier Labrador, Lorenzo Mora
Music
Carlos García
Director of photography
Javier Labrador
Editor
Lorenzo Mora