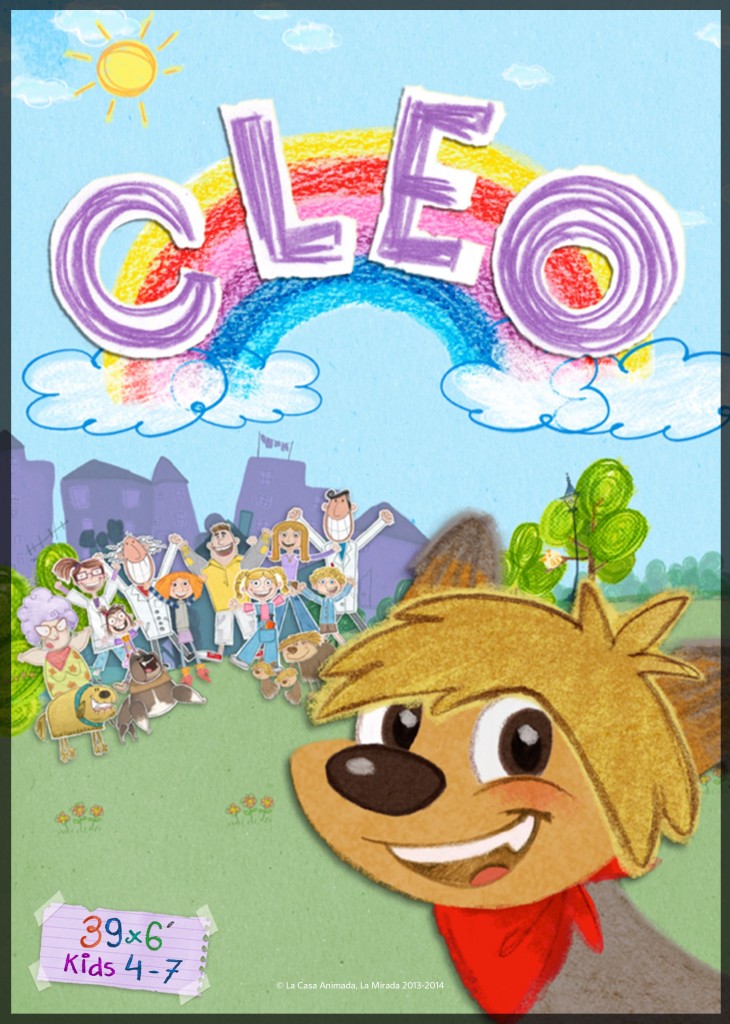 Life is what happens to the puppy Cleo while she is busy making other plans.
Hello! I'm Cleo and I'm the main character of this series. Even though it is assumed that dogs do not speak, I will be the one telling you about it. I am a curious, playful and stubborn puppy… and I hope I'll get someday all the beautiful things I like most from my friend Irma. Irma draws really well and her drawings will illustrate our thrilling adventures.
Director´s Statement
CLEO is the story of an adorable new born puppy. As the sole narrator of the series, with her adorable voice she shares her thoughts on her everyday adventures with her best friend Irma, whose beautiful drawings serve as landscapes for everything that occurs in the show in an innovative cut out animation style.
Each season is structured in 3 adventures of 13 episodes, for a total of 39 episodes per season. In every adventure Cleo has a different objective to be just like Irma, and addresses values such as a leading a healthy life-style, taking care of the environment and the importance of friendship.
Director´s Profile
Ana Sánchez-Gijón is an entrepreneur, producer and audio-visual director established in Canary Islands who has 25 years of experience in cinema, television and advertising. She's produced ten short films, six feature films and more than 400 advertising spots, music videos, TV pilots and the current children's programming on Canary Islands' public TV, Televisión Canaria.
In 1994 she founded the film production company La Mirada, which produces both short films and feature films, some of which have been nominated for the Academy Awards and selected in Cannes Film Festival. In 2006 she founded the animation production company La Casa Animada where it's been developed the training programmes Canarias Animada 2006-2011. These programmes have been a breeding ground for animators who, nowadays, make the production of animated series possible on the islands.
In 2014 she creates, produces, directs and co-writes the cartoon series CLEO, which first season of 39 episodes has been acquired by RTVE for the leading children's programming channel CLAN TV. Its international distribution, by Imira Entertainment, will start on 2015.
Production Company Profile
La Casa Animada is founded in 2006 by producer Ana Sánchez-Gijón, director of photography Juan A. Castaño and art director and History of Design Professor at the faculty of Fine Arts at the University of La Laguna, Alfonso Ruiz.
La Casa Animada was born with the idea of becoming a European model for cartoons and it's been the main formative school for animators in Canary Islands.
The company has carried out animation services for national and international companies and it's collaborated with other Spanish animation studios (among them, Hampa Studio in "Margarita", a Goya winning work for best animated short film). In 2012 it began creating its own audiovisual content with the trademarks El Club de Archi and Cleo.
Current Status
First season completed. Second season in development.
Director
Ana Sánchez-Gijón
Production Company
La Casa Animada
Screenwriter
María Sanz and Ana Sánchez-Gijón
Based on
An original screenplay
Languages
Spanish an English version available (first season)
Genre
Animated TV serie
Running time
39 x 6' per season
Target audience
Kids 4 – 7 (also for all the family!)
Total budget
€ 800.000 / season
Total budget in place
50%
Partners attached
La Mirada (Spain), RTVE (Spain), Televisión Canaria (Spain)