BKLYN 11211
By Zac73dragon
A road movie across the b-side of the most hipster neighbourghood in New York.
A tale where dreams and miseries wander together, trying to earn apiece of heaven on earth. In the neighborhood, a runaway bride crosses the streets dragging her useless white dress, the pizza boy can't hide his obsession with gorillas, a guy dressed as a green Santa Claus hasn't received his shipment of green socks and looks for sex on the Internet, a girl wanders by Williamsburg's bridge without a place to sleep, a boy wants to meet a boy, two girls come across each other… And in the corner, there is a Laundromat where everybody ends up…
Director´s Bio
Zac73dragon was born in the Canary Islands, Africa, Spain – the year Sam Peckinpah premiered Pat Garret and Billy the Kid. He always loved movies, but he studied filmmaking by chance: two years in Spain and then at the New York Film Academy. In 2002, he decided to create an international film festival focused on the digital revolution. Called Festivalito ("The Little Festival"), it was his real film academy and the filmmakers who attended it were his real masters. He has shot three movies: 90 minutes & I love you, The light of Mafasca and BKLYN 11211.
Original Title
BKLYN 11211
Genre
Dramatic comedy
Director
Zac73dragon
Specifications
Spain, Bolivia / Spanish, English / 2015 / 77 min
Technical data
HD / Dolby Digital  / 1:1.85 / Color
Available subtitles
English, French
Production company
Chukumi Studio, Diffferent Entertainment, The Tracker Company
Executive producers
Jose Víctor Fuentes, Virginia Park
Featuring
David Sainz, Luifer Rodríguez, Alba Rodríguez, Tomás Moreno, Chiara Betancor, Virgnia Park, Patricia Álvarez
Screenwriters
Zac73dragon, Julieta Martín, Sergio Bastani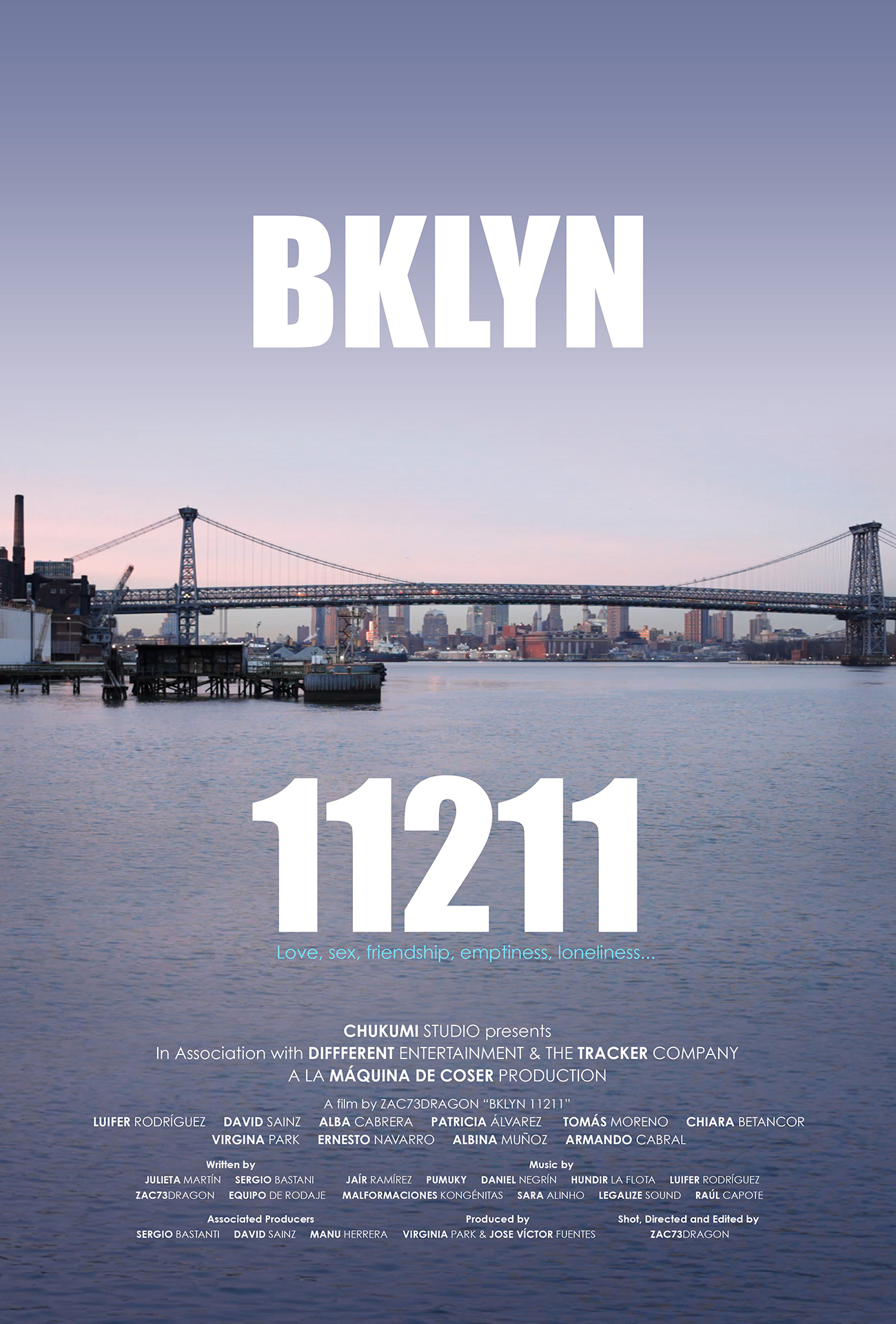 Music
Jaír Ramírez Pumuky, Daniel Negrín, Hundir La Flota, Luífer Rodríguez, Malformaciones Kongénitas, Sara Alinho, Legaliza Sound, Raúl Capote
Director of photography
Zac73dragon, Javie Lería & Tomás Moreno
Sound
Zelu Vega & Raúl Capote